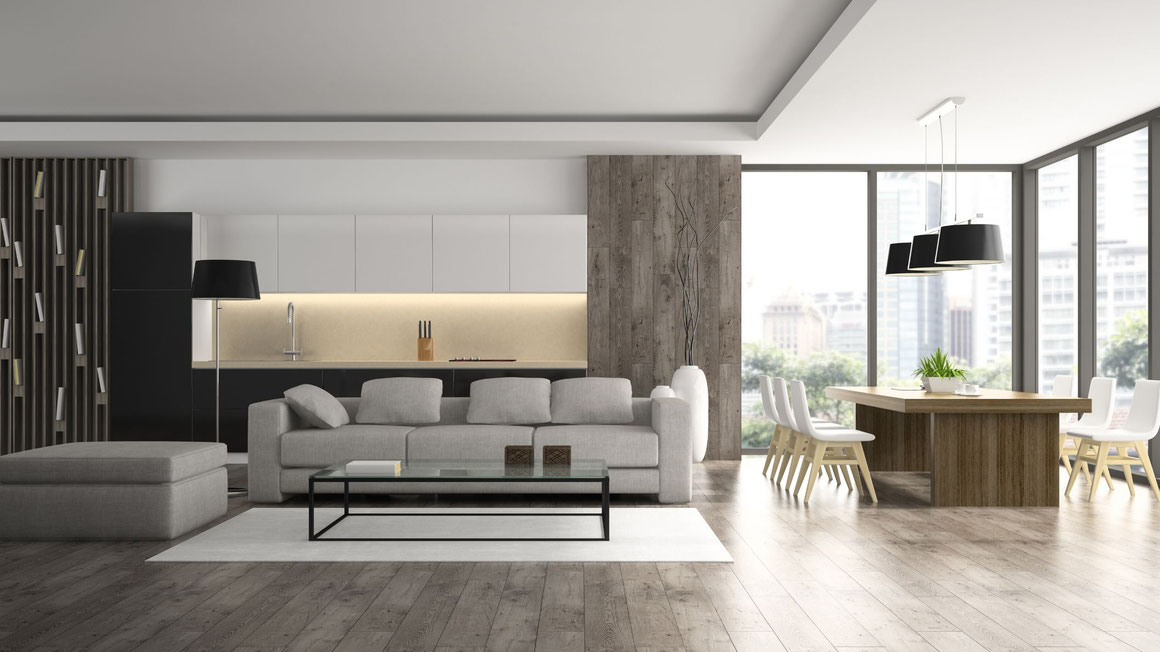 If you are looking for an affordable, durable flooring option for your upcoming remodeling project or for your new home, you understandably may be focused on synthetic materials like vinyl and laminate flooring. While these materials are seemingly similar on the surface, they actually differ in important ways that could impact your decision. With a closer look at vinyl vs laminate flooring, you can quickly narrow down the options and make a smart material selection for your home. 
For most homeowners who are debating between vinyl vs laminate flooring, one of the most important factors is understandably related to the appearance of the flooring material. Vinyl and laminate are both available in a variety of plank sizes that vary between 4 to 8 inches in width and 3 to 4 feet long, but some wider laminate planks are available. Vinyl is soft enough that it can be trimmed down as needed during the installation process using a basic utility knife. Laminate is comprised of pressed wood layers. While it can also be cut, it is more difficult and time-consuming to do so. The composition of the floor also affects comfort under your feet and even acoustics in your home. The indoor environment for both of these materials can be moderated with area rugs.

Vinyl is offered in a wide range of wood-like finishes. These include cherry, mahogany and oak finishes. The technology used to create vinyl floor planks has evolved dramatically. Today's vinyl floor planks are available in a range of textures and woodgrain patterns to beautifully mimic the look of real wood. However, cheaper vinyl flooring may be easier to differentiate from real wood.

For laminate, you can choose between these wood finishes as well as other styles. The additional style options for laminate include stone, travertine and ceramic. While the bottom layers of laminate are made out of compressed wood, the top layer is a photographic image that can be made to look like almost any material. Because of advancements in printing technologies, laminate can have a very realistic texture and appearance.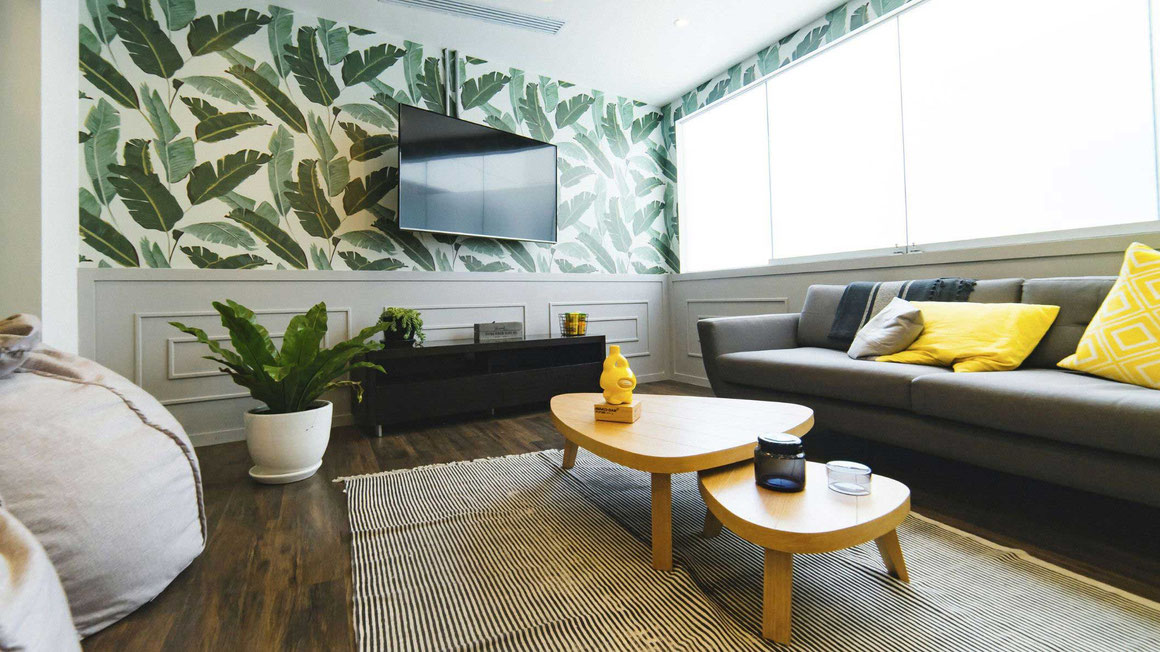 As you continue your comparison of vinyl vs laminate flooring, your attention will turn to durability. Regardless of whether you have pets or a high-traffic household, you can expect both of these flooring materials to hold up well to daily use. Vinyl will generally not show signs of dings from dropped items or scratches from animal claws. It also has a durable wear layer, so heavy traffic from children is not a problem. However, it can tear when you drag heavy objects across it. You may need to use pads under your heavy furniture and appliances. Likewise, laminate will not easily or quickly show signs of damage from wear or scratches. However, extensive scratches over time will result in visible damage. In addition, the corners of the planks could chip in certain situations. Nonetheless, because laminate is much more durable than real wood, it does not need to be refinished periodically like real wood floors. 
If you are thinking about installing your new floor on your own, you need to know what the installation process is for these two materials. Vinyl planks are sold with a peel-and-stick backing or with a tongue-and-groove design, and the material that you select for your home will dictate the specific installation process. Both types of vinyl planks need to be installed on or over a prepared subfloor. These planks can be trimmed to size with a utility knife.

Laminate floor is only available with tongue-and-groove planks. This is a floating type of floor surface that must be placed over a prepared subfloor. Because this material is made out of wood, a vapor barrier is required if laminate is installed in a basement. In addition, laminate must be trimmed with a circular saw or a hand saw, and this can add to the installation time. Nonetheless, both laminate and vinyl flooring are easy enough for most homeowners to install as a do-it-yourself project. 
Through your comparison of vinyl vs laminate flooring, you may appreciate the fact that both of these materials are easy to care for on a daily basis. Basic care for both materials involves sweeping to remove loose debris and periodic cleaning with a steam mop. For vinyl, you can use mild cleaning agents that are not abrasive as well as a wet mop as desired. While vinyl is more resistant to water-related damage, heavy exposure to water may result in the decomposition of vinyl plank adhesives. Avoid waxing vinyl floors. Waxing vinyl floors can lead to the accumulation of an unsightly buildup, and this buildup must be removed through a special stripping process.

Because laminate is made out of wood, a wet mop should not be used. In addition, only cleaning products that are labeled as being safe for laminate flooring are suitable. When using liquid cleaning agents, spray them onto the floor minimally, and use a dry cloth or mop to wipe the liquid up as soon as possible. Some tough stains can be removed from laminate planks with a modest application of nail polish remover. Waxing laminate is not needed or recommended.
Depending on the placement of vinyl and laminate flooring in your home, you may be concerned about the possibility of water damage and fading. Many people assume that vinyl and laminate planks are both more resistant to water damage than hardwood planks. Vinyl is a synthetic material, so it is more suitable for use in kitchens, bathrooms and laundry rooms. However, water should not be allowed to stand on it. On the other hand, because laminate is a wood-based product, it can easily become damaged when exposed to water. The surface is usually protected by the photographic image layer and a sealant, but water can penetrate through small scratches as well as through small gaps between the planks. This water can cause the laminate planks to warp. Because of this, laminate planks should not be used in areas that are more prone to water exposure.

You also may be concerned about the impact of sunlight on your flooring. UV rays can fade materials like upholstery and carpeting, and this fact may play a role in your decision to install vinyl vs laminate flooring. Both of these materials can fade when exposed to direct sunlight over a lengthy period of time, but laminate planks resist fading better than vinyl does. You can use blinds, drapes and area rugs to reduce the impact of sun-related fading.
Numerous factors should be considered as you decide which type of floor material to install in various areas of your home. Everything from the location where the flooring will be installed and your installation plans to your style needs, cleaning preferences and several other factors should be taken into consideration. Now that you understand the important differences between vinyl vs laminate flooring, you can begin narrowing down the options and preparing for the installation of your new floor.