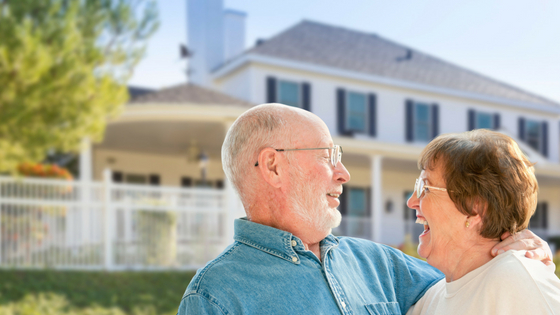 Your home's flooring is one of the features that is immediately noticeable as soon as someone walks through the front door. It plays a direct role in the home's overall ambiance and appeal during a first impression, and the floor's prominence throughout the home means that flooring also has a lasting impact. You may be planning to replace your home's floors soon, and you understandably want to make a decision that will have a positive impact on the home's resale value. Perhaps you intend to relocate very soon, and you are replacing the floor as a means to improve the appeal of the home to a buyer rather than for your own personal enjoyment. 

Many people may believe that the obvious answer to selecting flooring that boosts resale value and that has immediate appeal is hardwood flooring. However, the reality is that there are many factors to consider that play a direct role in appeal and value. More than that, the material that has the greatest impact on a home's sales price may not be the most cost-effective material to install over all. The return on investment should be carefully analyze during your decision-making process. With a detailed review of numerous essential factors, you can make a flooring decision that is most ideal for your home. 

Hardwood flooring typically has a natural warmth, but it is not the only hard floor surface that buyers may be drawn to when your house is listed on the market. Natural stone, tile and even stained and scored concrete all have appeal. These are all materials that have a natural charm, and they often are found in higher-end homes. Some of the options included hand-scraped hardwood, reclaimed wood, marble, travertine and others. More affordable options that may have a similar look and appeal include laminate wood planks and mid-range tile.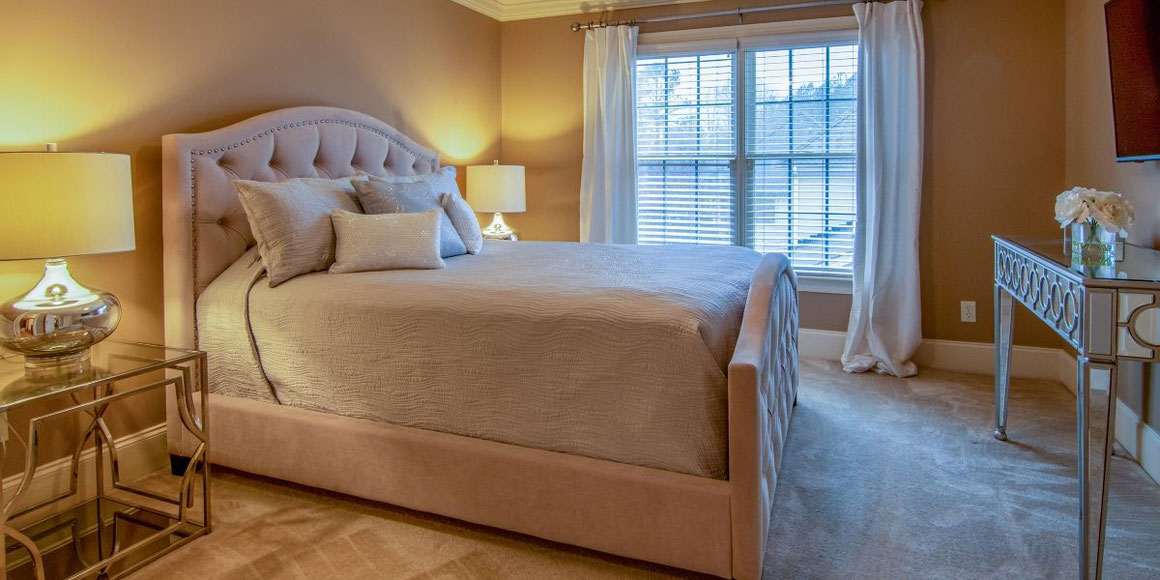 Carpeting has its place in homes. After all, it is a soft, plush material that feels great to walk on. It buffers sounds to create a more relaxing environment. In addition, it is available in numerous colors, textures and price points. However, many people are aware of how difficult it can be to keep clean. It is often equated in a buyer's mind with allergens, stains, wear and other unpleasant factors. Even if the carpeting in a home is in pristine condition, it may be difficult for a buyer to mentally break free from the reputation that carpeting has. Nonetheless, some people prefer carpeting in a bedroom because it is generally more comfortable than hard floors. In fact, some buyers may avoid looking at any homes that lack carpeting in the bedrooms. 

Another floor surface that may not be desirable with many buyers is vinyl. Vinyl has a general reputation for being low-quality and looking cheaper. However, it is important to note that vinyl flooring has evolved dramatically in recent years. There are now higher-end vinyl floor materials that have the durability of vinyl and the overall look of luxurious floor materials. However, because many people still have a negative assumption about vinyl flooring, this is a floor type that you may want to steer clear of for the immediate time. This is particularly true if you have a higher-end home. However, if you are shopping for floors on a tight budget in a starter home community, vinyl plank flooring may be a reasonable and cost-effective choice. In fact, you may find that vinyl delivers a superior return on investment for starter homes than some of the other higher-end materials. 
If you have decided to install hard flooring surfaces in part or all of your home, the importance of sheen cannot be overstated. A high-sheen floor, such as polished marble, can make a beautiful impression in entryways, but it is generally viewed as being impractical in living areas, kitchens and bathrooms. Shiny floors are viewed as being difficult to keep clean. They are also considered to be slippery and even rather cold or impersonal. Their formality serves a great purpose in foyers, but you may consider a low-sheen finish in other areas of the home.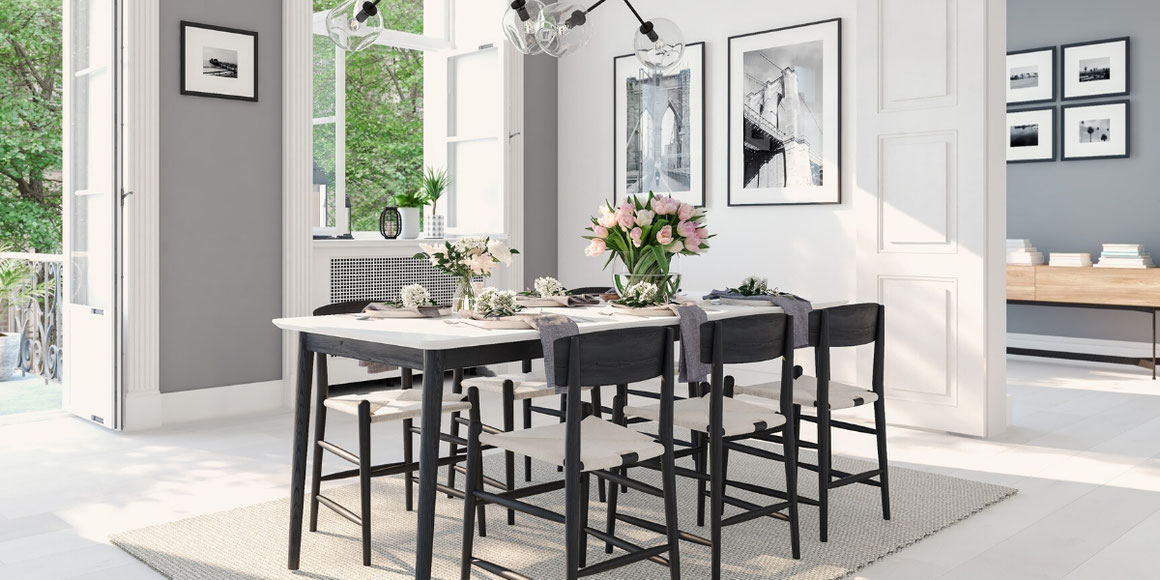 If you do not intend to sell your home immediately, you understandably need to invest in a new floor material that will be appealing in a few years when you decide to list it on the market. Regardless of when you intend to sell the home, today's buyers are often forward-thinking and savvy. They understand that flooring should ideally remain stylish and appealing for many years or even decades, and they may shy away from ultra-trendy flooring materials and colors. After all, these floors may lose their appeal quickly and may result in the need for a floor replacement for cosmetic reasons long before the material has worn out. Regardless of the floor material that you select, choose a product that you believe may remain stylish and appealing many years from now. 
If you plan to live in your home for a while after the new flooring is installed, the color that you select should appeal to you personally. However, the color should also have universal appeal. When flooring is an undesirable color, you may negatively affect your resale experience. An unusual color choice may only appeal to select buyers, and narrowing down your pool of prospective buyers can make it more difficult for you to sell the home quickly and for a reasonable sales price. A smart idea is to choose a neutral hue that has widespread appeal. You may also choose a specific color tone based on the type of home that you have and who may most likely purchase it. For example, if you live in a country home, hand-scraped barn-style hardwood in a medium tone may be a lovely choice. On the other hand, if your home is more traditional, a dark oak color may be ideal. Essentially, look for a beautiful material that buyers may expect to find in your style of home. Keep in mind that homes that may appeal to individuals or couples without children may be more suitable for lighter neutral shades. Use slightly darker neutral hues if your home is family-oriented. 
Some people wonder if they should consider a different flooring material for each room. For example, they may want carpeting down the halls and in the bedrooms, tile in the kitchen and bathrooms and hardwood flooring in the living areas. While it may seem more practical to break up the flooring in this manner, consider the effect that this type of flooring strategy will have on flow in your home. Many people are overwhelmingly drawn to an open-concept home. This is a floorplan style that has a spacious, open living area where the breakfast or dining area, family room, kitchen and entryway are open. There are no dividing walls, so you have one large space. While you will need to use furniture to divide the spaces appropriately, the use of different types of flooring throughout an open-concept area can be distracting and can interrupt the visual flow in the home. With this in mind, some people still prefer to use tile in the bathrooms and carpeting the bedrooms. Because these areas are tucked away from the common open area and are not in view, choosing different types of carpeting in these rooms may not have a negative impact on flow.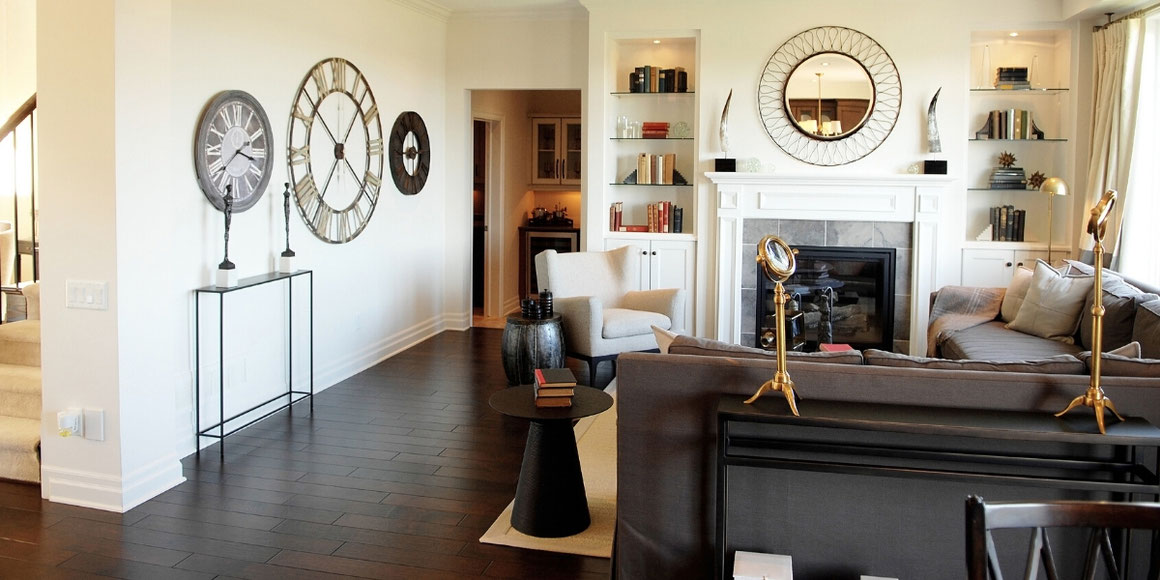 Hardwood is undeniably one of the more popular flooring materials to install in homes today. Because many buyers covet homes with hardwood floors, it makes sense to consider this material heavily in your decision-making process. However, as you explore the many beautiful flooring options, you will notice that there are two primary types of hardwood to choose from. These are solid hardwood and engineered hardwood flooring. When buyers walk through your home, many will ask their real estate agent what type of wood floor is installed because this does impact their experience with the floor. Solid hardwood features planks that are comprised of a solid piece of wood. Because the grain runs all in one uniform direction, it can be refinished as needed. Depending on the thickness of the wood, the material may be refinished multiple times. This extends its useful life. Engineered hardwood floors, on the other hand, is considered to be more durable and stronger. This is because it is comprised of layers of wood that have been laid in opposing directions. While this gives the wood strength, it becomes problematic with refinishing projects. As you select the right type of wood floor for your home, understand that these two types of hardwood flooring appeal to different people. Therefore, there is not necessarily a prime option that is a better choice. 
Professional installation for your wood flooring may inflate the cost of your new flooring project. In fact, labor can sometimes cost as much as or more than the materials. Nonetheless, this is not an area of your project that you should skimp on. Beautiful wood flooring can have instant appeal, and it understandably will be a focal point when prospective buyers tour your home. They likely will notice poor workmanship or flaws in the floor. This can instantly detract from the appeal of the floor, and it could even make the home less desirable overall. To boost resale value, the floor must be stunning and flawless, and professional installation is usually essential for this. If you need to save money on installation, consider buying a slightly more affordable type of flooring. Remember that the price of wood floors varies dramatically. You may also pull out the existing flooring on your own to save additional funds. 
It makes sense to look at how some types of flooring can increase your home's resale value, but remember that you also need to focus on return on investment. Return on investment is calculated by subtracting the total cost of the flooring from the amount of value that it brings to your home. To ensure that you make a smart buying decision, it is important to consult with an experienced real estate agent about different flooring types that local buyers are looking for. At the most basic level, your home is only worth what someone else is willing to pay for it. A real estate agent with experience in the local market can help you to determine which materials that are at the top of your list may be coveted by buyers. You may also get some insight about the value that the flooring installation project would add to your home. You can then subtract the total flooring installation project cost from the value increase to determine the actual return on investment. You may find that high-end carpet installation cost is not as easily recouped as hardwood flooring installation cost. Nonetheless, in many areas, paying for ultra high-end flooring of any type may not be as cost-effective as finding a more affordable alternative in most homes. This is because once a floor material has been installed, buyers may not be able to discern the difference between flooring options that look almost identical despite their cost difference. Be aware, however, that high-end buyers typically do pay attention to the types of materials used in the home rather than on the cosmetic appearance of the materials.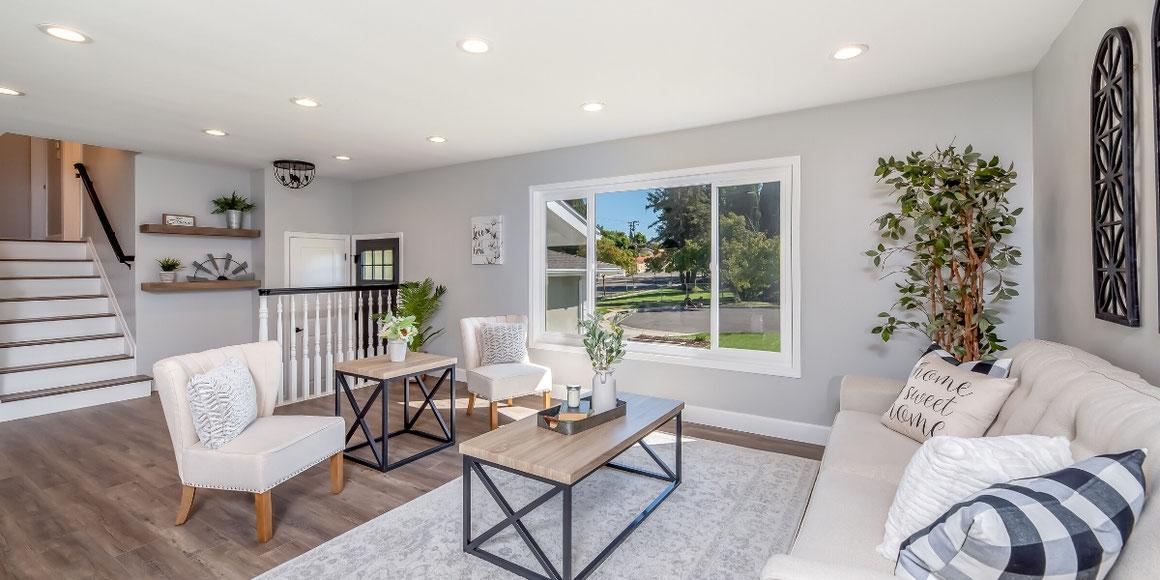 The return on investment for solid versus hardwood flooring is fairly similar, but there may be a more cost-effective option to consider. Innovations in laminate flooring design and production has resulted in laminate planks and slats being almost identical in appearance and touch to real wood flooring. A drawback of laminate flooring is that it has a much shorter life than hardwood. However, unless you intend to remain in the home for several years before you relocate, laminate flooring could be a smart, cost-effective alternative. This is a strong material that resists scratches and that is not damaged by small spills. Most importantly, it could boost property value almost as much as hardwood flooring can, and it usually costs a fraction of the price to install. This means that the return on investment may be significant. However, there is one caveat. In higher-end homes, laminate floors may be viewed as a lesser material. It may be a detriment to your home's value if your target audience is comprised of high-end buyers who demand the finest materials in their home. 

As you can see, it is important to consider how long you plan to be in the home and what your budget for the flooring installation project is. You also need to consider who your target audience is and what they may be looking for in flooring. While aesthetics are important, many buyers do consider the day-to-day living experience with different types of floor. They want flooring to be lovely as well as practical in most cases. Because real estate agents are familiar with what buyers in the local market find desirable and what they may shy away from when making a buying decision, they can provide you with a wealth of information. However, remember that what buyers desire does not always equate to a great return on investment. To make a smart decision, you will need to carefully compare appeal and cost against the anticipated value increase. Now is a great time to begin exploring beautiful flooring material that may look stunning in your home and that may boost value dramatically.