Laminate flooring offers the best of both worlds - the beauty of natural hardwood along with easy, manageable maintenance and a more affordable price. By properly caring for your laminate floors, you will maintain their appearance and increase their durability and overall lifespan.

Laminate floors are naturally resistant to fading, moisture, and staining due to their protective layer but adequate care is still required to best preserve the flooring's integrity. Without proper care, laminate floors can become damaged over time and lose their vibrancy.

Fortunately, caring for your new laminate flooring is easy with the proper knowledge. Read on to learn 10 tips for cleaning and preserving your new laminate floors.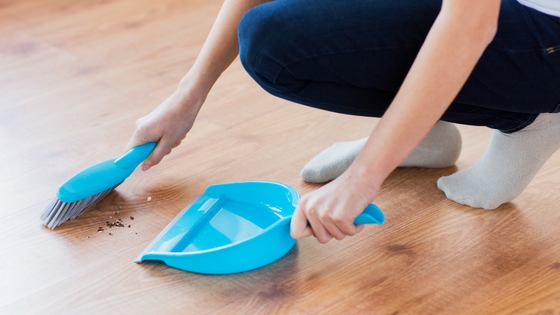 The first step in keeping your laminate flooring looking like new is frequently dusting using a dry microfiber mop or a broom with soft bristles. Keeping your flooring clear of debris will help prohibit scratches to its surface and prevent it from appearing dull.

In addition to soft, Swiffer-type mops, it is also important to regularly vacuum your laminate floors. Most vacuums offer a setting specifically designed for wood floors. It is important to avoid vacuums with any metal pieces or rough surfaces that could scratch the flooring. A soft vacuum brush will effectively suck up dust and debris without harming the surface of your flooring.
As mentioned above, dry mops are the recommended form of cleaning. Wet mops or steam cleaning can cause moisture to get absorbed in between the floorboards. This moisture can build up beneath the surface and eventually lead to damage.
The UV rays from the sun can penetrate windows and cause fading. Consider using protective window coverings to block heat and harsh rays.
Stains such as paint, crayons, markers, or oil require special care. Using an acetone-based nail polish remover and a soft, microfiber cloth, carefully and gently remove stains.

For tricky, stuck-on substances like gum or wax, apply ice to the area to harden the gunk and then use a credit card or plastic scraper to gently scrape away the material. Work carefully and slowly to avoid scratching the surface of the floor.
Since water or liquids can cause damage to laminate flooring, it is crucial to wipe up any spills immediately. Although laminate is resistant to moisture, if liquid remains on the flooring too long, it can be absorbed.

During inclement weather or snowy conditions, be sure to have guests remove their shoes or boots before walking on the floors. Store wet shoes and boots on a mat or in an area without laminate floors.
Debris and particles such as sand, gravel, and dirt can be dragged along laminate floors and cause scratches. Consider using a mat at any entrance to your home to help trap any debris from being brought in. Also, make a rule to avoid wearing shoes in the house.

In addition to entry mats, you can also place mats in areas of high traffic such as in front of the sink or vanities. These mats are an easy, effective way to reduce wear and tear on flooring.
Heavy furniture such as couches, tables, and chairs can cause damage and scratches to laminate floors when they get moved around. A simple solution is using protective padding underneath any furniture.
A variety of substances and cleaning solutions can be too harsh for laminate floors and lead to damage. Unless a product is specifically designed for use on laminate, it is best to keep it away from your floors. Aside from damage, certain substances and cleaning products can also leave behind a dulling residue.

In order to preserve your new flooring and keep it in optimal condition, it is best to avoid the following:
·         Waxes
·         Polish
·         Oil
·         Soaps
·         Abrasive cleaning liquids
·         Detergent
·         Shine enhancer
·         Varnishes
·         Products containing vinegar

In addition to avoiding the items mentioned above, it is also important to avoid the use of scouring pads, steel wool, or other rough products that may lead to scratches.
While there are countless cleaning solutions available, not all of them are safe for laminate floors. It is suggested to use a gentle cleaning solution recommended by the manufacturer and specifically formulated for laminate surfaces.
Once you decide which cleaner to wash your floors with, be sure to only use the recommended amount. Using too much cleaner can leave behind residue and streaks.
If you are considering laminate floors for your house, Global Alliance Home Improvement Products offers a wide selection of high-quality laminate options in one of our three locations laminate flooring Toronto, Wasaga Beach or laminate flooring Barrie.
Laminate flooring installation can be completed on your own or by a professional. Generally, installing laminate is quick and easy for handy people looking to install the flooring on their own.

The interlocking design of the planks along with sections that are smaller than ever before allows for easy installation without the use of glue or other fasteners. This design not only makes installation easier but it also ensures any flooring renovations in the future will be simpler and more cost effective.

For anyone who is not confident in their DIY skills, Global Alliance can recommend installation experts. Flooring specialists are capable of installing laminate quickly and efficiently.
Laminate is a beautiful, affordable alternative to hardwood flooring and following the cleaning tips mentioned above will keep your flooring luxurious and vibrant. If you have further questions regarding laminate flooring, please feel free to contact us.